Spring is finally here! Now's the time to decide how to spruce up your yard. Because we live so far south, we Floridians can enjoy an ideal growing season most of the year! Why not add some floral beauty to your garden with an ornamental tree or two? Here are five of the best ornamental trees for Florida yards.
What Are Ornamental Trees
Unlike other trees – like palm, oak, evergreens, maples, etc. – ornamental trees serve a different purpose. They are not valued for providing shade, a windbreak, growing to impressive heights, or providing a holiday decoration around Christmas. Instead, ornamental trees are defined as grown for their decorative purposes, including flowers, shape, texture, or other aesthetic characteristics. Our area of central Florida is 8 or 9 on the hardiness zone scale. Ornamental trees for zone 9 can lean to the tropical end of the spectrum. While they may not flower all year long, you will certainly enjoy the magnificent blooms that our northern neighbors can only dream of. And with all of those vibrant colors, you may enjoy more than the flowers themselves. Bees, butterflies, and hummingbirds all love brightly colored flowers. In particular, Bees need all the help they can get when it comes to finding food sources. Planting ornamental trees does your garden a favor and will assist the declining bee population at the same time!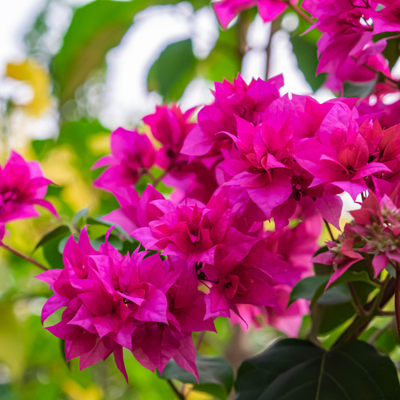 Kinds Of Ornamental Trees
Bougainvillea
This towering plant can reach heights of thirty feet and produces pink, purple, or even golden yellow "flowers." These "flowers" are not the traditional ones but are papery bracts like those on a poinsettia. Bougainvillea can grow well in containers, making this an excellent choice for decks, patios, or yards with limited space. It's drought-tolerant and loves direct sunlight – perfect for a Florida garden.
Cassia
Cassia trees grow to about 10 feet in height and produce hanging clusters of yellow flowers, which gives it its common name, "Golden Shower tree." Cassia is a favorite of butterflies, so keep an eye out for visitors if you choose this tree for your garden. A native of India, this plant thrives in tropical conditions, and its smaller height makes it ideal for any garden.
Magnolia
There are many varieties of magnolias, but there are there's one that makes for a better ornamental tree than some of its relatives. We give you: The Little Gem Magnolia. This unique plant blooms at a younger age than other magnolias, which means you'll be able to enjoy those fragrant blossoms sooner. It's smaller in stature than other varieties and will tolerate the high-humidity climate of central Florida as well as periods of drought. The leaves are quite darker than other species and contrast nicely with the white flowers the tree produces. It will reach a maximum height of about twenty feet in as many years.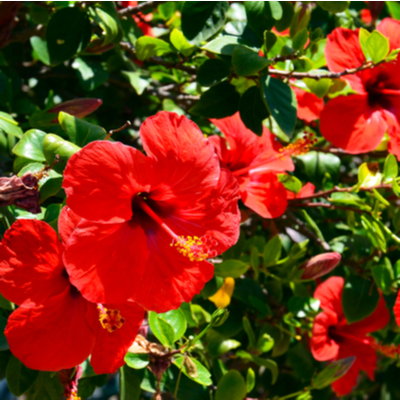 Hibiscus
There are just over 30 varieties of native hibiscus trees in the US. One varietal that does well in Florida is Hibiscus coccineus. It's actually native to Florida and is famous for its dark red flowers. It reaches heights of up to eight feet and does well in wetter areas of the garden near ponds or other water elements. Even though this plant thrives in wet, marshy conditions, it is fairly adaptive to drier soils. Your yard will be the talk of the town if you invite Hibiscus coccineus to the garden party.
Plumeria
Also known as Frangipani, plumeria create beautifully colored fragrant flowers resembling a pinwheel. Though native to the Caribbean, this flower is beloved worldwide and instantly invokes a tropical vibe. They can grow both in the earth or in containers and are relatively easy to care for. However, if you choose to grow it in a container, keep in mind that plumerias tend to become rootbound. If you're not familiar, "rootbound" means a plant has completely taken up the space of the pot or container it occupies. Like a hermit crab needing a bigger shell, you may need to re-pot your plumeria to a larger container, so the roots have room to expand. If you notice your plumeria isn't as thriving, be sure to ask your tree care specialist if it's time for it to get a new container.
Get Superior Tree Care This Spring From Flowers Turf & Pest Management
At Flowers Turf & Pest Management, our tree and plant specialists are certified, insured, and bonded, so you can rest assured your yard is in good hands. To help your ornamental trees thrive all year, we offer a three-part series of fertilizer and pest control. To learn more or schedule an appointment, call (321) 254-1929 or contact us online here. Don't forget to check out our monthly blog to stay updated on the latest yard care tips and follow us on Facebook for the latest deals and offerings.